The Cuyahoga County Bed Bug Task Force
To assist in increasing the public's awareness to the growing local bed bug concern, the first Cuyahoga County Bed Bug Symposium was held at the Cleveland Museum of Natural History on November 4, 2010. Well over 400 people were in attendance. At this conference, a number of interested parties representing local health departments, organizations and businesses directly involved in bed bug reponse and control began the task force planning process.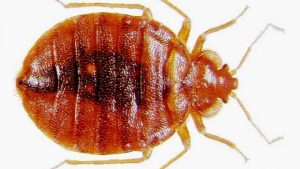 The Cuyahoga County Bed Bug Task Force began to meet in March of 2011. The Task Force is comprised of a diverse group of individuals who are focused and committed to minimizing the potential impact bed bugs may have on our local communities, businesses and residences. Members routinely meet to discuss current bed bug-related news and issues and to identify methods of improving the dissemination of education and guidance on the prevention, detection and elimination of bed bug infestations.
A list of the active Task Force participants can be found on the "Members" page of this web site. Meetings are typically held on a regular basis in the offices of the Cuyahoga County Board of Health.